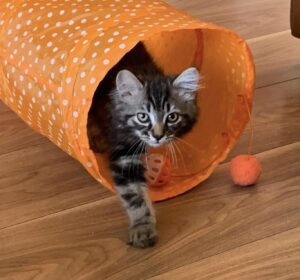 There can be many different reasons why you chose to get a pet and it is a big decision as it is a long term commitment. It is important to take into consideration the life span of the pet; a cat can live 18 plus years. That therefore brings a financial commitment in regards to feeding, litter, toys, vet bills, cat sitter (Alicat Purrfections, home cat sitting service in West Lothian) and your own time invested. There are lots to consider and you have to make the right decision for you and your family.
If you have decided a cat is the best pet for you, Purrfect! Then that leads to many more questions, research and preparations. Firstly do you want a kitten or a mature cat? Kittens are cute and playful, however they take a lot of your time and attention, so you need to be prepared to put the hours in. You cannot go blaming the kitten for bad behaviour, if you have not spent the time socialising, playing and taught the kitten good behaviours. Another question is do you want a Moggy or Pedigree cat? You need to decide your budget; as this can often steer you whether you wish to invest in a Pedigree. Also what specific breed suits you best and will it be an indoor or outdoor cat?
There are many cats looking to be re-homed in rescue shelters and I would always recommend checking what cats they have available, as you might just find the right fur baby waiting there for you. If you have decided you do not have the time to invest in a kitten, then an older cat may be more suitable. I adopted Poppet when she was 11 and Charlie when he was 4, I had many happy years with both of them, so don't be put off by an older cat.
When you find the right cat/kitten to join your family it is time to start preparing for the day you bring him or her home. Looking after the health and happiness of your new family member is an important responsibility, and lots of fun too. It is an exciting time, especially if it is your first fur baby. I have put together some tips for what to start thinking about before the big day.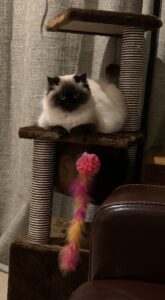 Prepare your family. The arrival of your new kitten/cat will inevitably be an exciting time so talk to your children in advance about settling in a new kitten/cat and any house rules you want to put in place to ensure the kitten/cat can rest and have quiet time when needed.
Focus on the essentials. There's no shortage of pet products available but start with the basics. Think about what your kitten/cat will eat, where they will sleep, a litter tray and any grooming requirements they may have. You will also need to transport your cat from time to time so a carrier may be useful plus toys to provide mental stimulation and exercise. Provide toys such as mice and balls in the safe room for when you are not around. Put a new scratching post (at least one metre tall) inside the safe room. Scratching is a natural and comforting behaviour for cats. It's also important that the scratching post is new and has not been used by other cats. Your new cat does not want to be stressed by the smells of other cats while s/he is first adapting to his or her new surroundings.
Prepare a safe room. A safe starter room or sanctuary for the new cat will provide the cat with the quiet and safety s/he needs while becoming familiar with the scents and sounds of your home. The starter room can be any size but must have a secure door and ceiling.
Equip the safe room with cat food, water and litter. Place food and water on one side of the room, but apart as often a cat will not eat and drink in the same place. Add an open (unenclosed) litter box on the other side. You may need a second litter box, once the cat has full access to the house/flat. Shyer cats may not eat much during the first 24 to 48 hours and may experience temporary diarrhoea from stress. If your cat has not eaten in 48 hours, try some extra tasty treats such as cooked chicken, canned tuna or salmon. If this is not successful, you may want to consult your veterinarian for advice.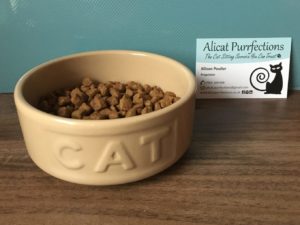 Cat proof your home and garden. Close off small gaps and fireplaces, cover electrical wires, remove any poisonous plants and put away dangling objects and anything breakable. The extent to which you pet-proof your garden will depend on whether your kitty will be an outdoor or indoor cat, but make sure your cat can explore safely if they will be venturing outside.
Give kitty a place to hide. New cats are often nervous and like to hide. Cardboard boxes or sheets draped over chairs make ideal hiding spots when you first bring kitty home. If you've adopted a shy cat, we recommend removing large items of furniture from the room, such as beds and dressers. It is much easier to interact with a cat hiding in a box than a cat hiding under a bed.
Spend time with your new cat. In the beginning; visit frequently for short periods of time. Visiting can mean interacting directly with the new cat in the form of play or petting, or quietly reading a book or chatting on the telephone in the same space as your new companion. Keep in mind that a nervous cat may growl, hiss, twitch its tails or pull its ears back. The best response is to speak softly followed by giving the cat some time alone.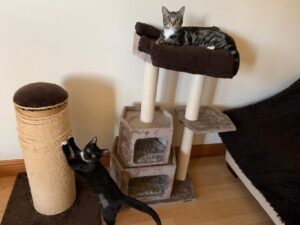 Register with your local vet practice. This is an important part of pet guardianship. Register your kitten/cat with your chosen vet and ask them about topics such as preventative healthcare micro-chipping and neutering.
Book vaccination appointments. Vaccinations will protect your kitten/cat from a range of common diseases. Check with the breeder or rescue centre which vaccinations your cat has already had and when they'll be due next and ask your local veterinary practice for advice if you have any questions. Flea and worming treatments are important and your vet will be able to advise on the best prescription for the age and weight of your cat.
Consider cat insurance. When choosing cat insurance, be aware that cover can vary greatly between policies. Look for a policy that will give you comprehensive cover and support the health of your cat in the long term rather than a short-term deal. Also, if your cat has a pre-existing condition you will need to advise the Insurance Company as they may not cover future treatment.
Transition beyond the safe room. When you and your new cat have established a trusting relationship, the cat is ready to begin exploring the house. Be sure to begin this process when you are home to supervise. Close most of the doors so the cat begins its orientation in stages. Too many new spaces at once can be stressful and frightening. Sometimes the integration process can begin in just two to four days; however, sometimes it is best to wait a couple weeks. Shy cats in particular may need a longer integration period. For the first few nights I would recommend keeping the cat secure in the safe room overnight, until the cat is more confident and settled in the whole house/flat.
I hope you and your new fur baby will be very happy together!
If you have any questions about your cat or want to book 'Auntie Ali' from Alicat Purrfections cat sitting service to take care of your cat in the comfort of their home any time you can't be there, then please do not hesitate to get in touch by calling Allison, Alicat Purrfections, Proprietor on 07904 209 696, email: alicat.purrfections@gmail.com or to book: https://alicatpurrfections.co.uk/alicat/booking-form/
If you would like to know more about Alicat Purrfections cat sitting service, Livingston then check out here https://alicatpurrfections.co.uk/alicat/services/