Recommended by cats all over West Lothian
Spock & Dina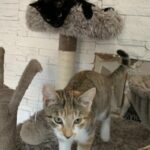 Allison was amazing when we booked her to look after our 2 kittens, Spock and Dina. We originally booked her for a weekend in August but we had to cancel this last minute due to lockdown restrictions coming in. Allison was fab about this, she was so understanding and allowed us to keep our booking but reschedule it for another time.
When we next knew of a time we could get away for the weekend we contacted Allison to arrange cat sitting and she was so helpful and accommodating right away even though it was only a week or so beforehand.
She made sure to send us updates throughout the weekend with pictures and videos and the cats loved her. Allison was very professional, friendly and polite and I felt so comfortable leaving our cats in her care whilst we were away.
We will definitely contact Allison again any time we're going to be away from the house and need the cats to be seen to. 5/5 stars, she's fantastic and would recommend to anyone!
Lauren.B