I know travelling right now is not easy, however it is good to plan something nice to look forward to in the future. Are you planning an amazing holiday next year because you had to cancel this year? Or perhaps when restrictions allow booking a short trip away, visit friends or family.
Purrfect! It is great fun planning a break away, choosing where you are going to go and what you are going to pack. You have checked your passport, tickets booked and checked-in. You are all ready to go! Oh but wait!!!! Who is going to feed the cat??? Oops, how can you forget about your fur babies!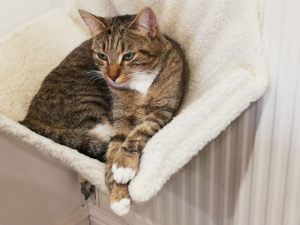 The solution is often family or neighbours will pop in to feed your cat. However, what if they are going away with you or they are not available to help out? Then what?!! Don't panic! Alicat Purrfections cat sitting service in West Lothian offers you the ideal solution. A great alternative to boarding or relying on neighbours. You can have an awesome holiday planned, but none of it's good enough if you don't have complete peace of mind and your cat isn't also being treated like a total prince or princess too. Alicat Purrfections can be trusted to pamper your kitty as well as checking the security of your home. You can switch off and relax, knowing everything is being taken care of.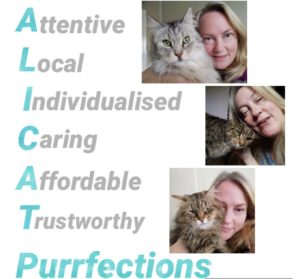 My client Helen-Jane had this to say: "Total peace of mind – it's was just what I needed to make my holiday perfect – the peace of mind of knowing my cat was in such thoroughly professional, loving and dedicated hands. Thank you Allison, I will definitely be calling on you again!"
By booking a cat loving, professional and reliable cat sitter you will be able to relax and thoroughly enjoy your well deserved break. You will receive updates as often as you wish -every visit, once a day or just once a week. Lots of photos and videos showing you how content and relaxed they are in the comfort of their own home. Alicat Purrfections offers a flexible service to meet you and your cats needs. 'Auntie Ali' always goes that extra mile to give you peace of mind your cat is safe and happy.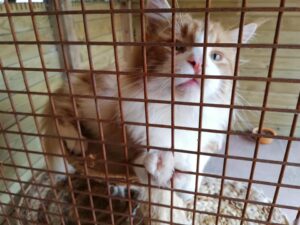 Do you hate having to put your cat behind bars? There is a furbulous alternative that allows your cat to remain at home and continue it's normal routine. This reduces the stress for both you and your fur babies. Cats like to stay in the comfort of their home and Alicat Purrfections allows them to do that. It's a win-win!
Don't just take my word for it, this is what client Leona had to say: "Highly recommended Alicat Purrfections! Our cat gets so stressed going into a cattery – it was such a comfort knowing he could chill in his own home, with Allison popping in regularly to check on him & see to his every need! He loved her instantly"
With years of feline experience and over 100 satisfied cat owners, which is nearly 200 cats in West Lothian. Isn't it time you booked Alicat Purrfections to pamper your kitty cats any time you can not be there.
Just think, next time you are relaxing by the pool with a cocktail in your hand, you will be worry free about your cats, as they will be having fun with 'Auntie Ali'.
Services offered by Alicat Purrfections…..
😺15 min Pop-in visits
😻30 min Pampering visits
😸Kitten play/social visits
😺Daily cat check visits while you are at work
🚙Pet Transport
🐈Cat behaviour advice
🔒Home security: move post/lights on/curtains opened
🙀Bins out
✅Police checked / Disclosure Scotland Member
✅Insured
If you are still not sure, check out my pawesome Testimonials…. Reviews page