I was delighted to be asked by Helen-Jane, the Editor of the West Lothian free Konect Magazine to be interviewed and find out more about Alicat Purrfections. I of course jumped at the chance to share my services with the lovely people of West Lothian, especially Bathgate and Livingston South. The two editions the feature was going to be published in and distributed throughout March 2020.
It was a great opportunity for me to let the community know a bit more about me and the services Alicat Purrfections offers to all towns and villages in West Lothian. I am a cat sitter based in Livingston, and happy to travel to take care of your fur babies throughout the region. I also cover out with the area such as Wilsontown near Forth, Maddiston and even Corstorphine in Edinburgh. Always get in touch and ask if I can do drop-in home cat check visits in your home, because if I can, then of course I will.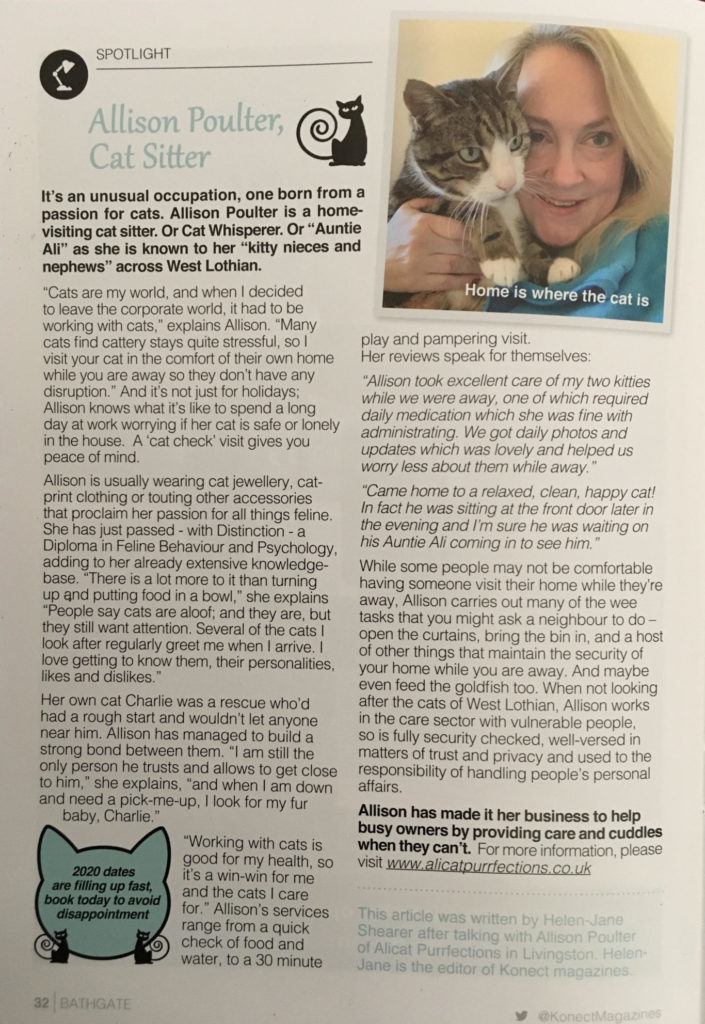 I would love to hear from anyone wishing to book me to pamper their kitt cats anytime you cannot be there. Whether working away from home, visiting friends & family or enjoying a well-deserved holiday for a few weeks. I have no minimum or maximum durations or number of visits. I offer 15 or 30 minute visits, but I am flexible in my approach so I ensure your cats routines are not disrupted or altered. This keeps them relaxed and happy while you are away as cats don't like a change to their territory and environment. Any upset to this can cause them anxiety and to become stressed, which can in turn affect their behaviour.
I specialise in cats, however if you have fish or other small pets that need looking after along with your cats. Please do ask, as this is not usually a problem and I am happy to take care of them as well. I have owned fish, gerbils, a rabbit, a tortoise as well as a dog in my youth.
If you didn't receive a copy of the Konect Magazine because you don't live in Bathgate or Livingston South, I have added a copy of the article as well as links to the magazine. Hope you enjoy.

Allison Poulter, Cat Sitter, Konect Livingston March 2020