Alicat Purrfections Cat Sitting Service, Livingston, West Lothian is always looking for something new to learn as an inquisitive feline. Whether it be reading books about the different Breeds of cats or articles on the benefits of owning a cat for your mental health. To ensure Alicat Purrfections cat sitting service offers the best possible care to every kitty under their guardianship. It is really important to ensure training is up to date, as well as gaining new feline skills and knowledge by completing training courses whenever possible. The welfare of your cat whilst in my care during home visits is top priority. Observing your pets behaviour will always highlight if there is something wrong or reassure me they are healthy and happy. I spend time getting to know your cat(s) from the first introduction and during every home visit.
I signed up in March 2020 to complete a Distance Learning Animal Care course with the SRUC college. This has given me something to focus on during Lockdown as it has had a huge effect on my Business. I feel it is always important to learn new skills and this has given me lots of knowledge on all pets. I have completed the first unit on Health Care for Small Animals and very proud I have managed to work through it during this difficult time. I am now working my way through the next unit on Environmental Enrichment and Exercising Animals.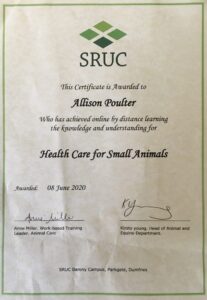 I completed the second unit of my SRUC Distance Learning Animal Care course in January 2021 with 100%. It covered Environmental Enrichment and Exercising Animals which has given me lots of interesting ideas and knowledge. To ensure you have a happy healthy pet, it is essential enrichment and exercise is incorporated in to their daily routine. I am now working on the final unit, Animal Anatomy.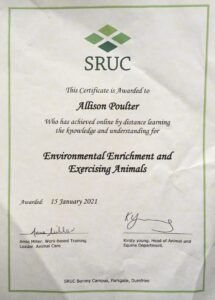 During Covid19 Lockdown in April 2020, I completed Udemy's online training course in Cat Behaviour Rectification & Cat Health Care. There is always something new to learn about our amazing feline friends. Very useful tips!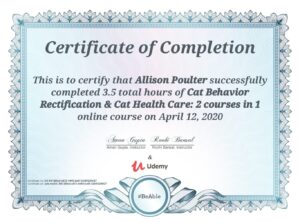 I attended a PDSA Pet First Aid course in February 2019 and gained a certificate of completion. It's important to Alicat Purrfections to give peace of mind to all it's clients that I take great care of their fur babies while they can't be there. I always carry a First Aid kit in my car, as well as a pet carrier in case of emergency and I need to take your cat to the vets. It's always better to be prepared!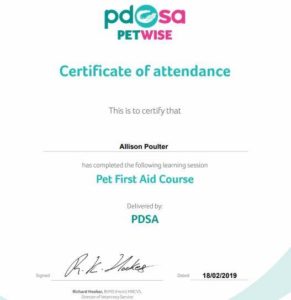 I completed Feline Behaviour and Psychology Diploma with Distinction in February 2020 through the Centre of Excellence. 8 of the 10 modules passed with 100% and 2 with 95%, overall score achieved was 99%. Well chuffed! Learnt lots and looking forward to sharing with you all.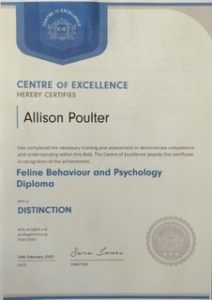 I enjoy learning about all animals and studying is a great way to increase my knowledge. I found the online Open Learn course by the Open University on Animal Minds very interesting and completed it 8th November 2018.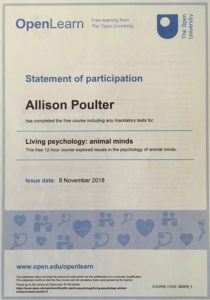 The PDSA offers lots of online courses to expand pet owners knowledge. I completed the 'Get Wise About Cats' in February 2019, which was full of useful facts. I am always happy to offer advice and share my experiences to help with any concerns or questions owners may have.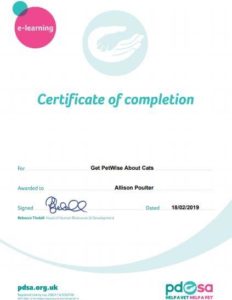 I have also completed a 2 day Practical Cattery Management course back in June 2013. This gave me lots of practical skills in cat care and ensuring the risks of infection is kept to a minimum through cleaning routines. Keeping the food, drinking bowls and litter trays cleaned is just as important as the kennels. I have implemented this into my cat sitting business, as I thoroughly clean all their bowls and scoop the litter trays on every visit. I pride myself on leaving your cats feeding and toilet areas clean and tidy. All part of the service!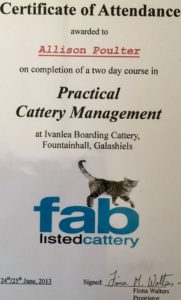 To find out more about the services Alicat Purrfections cat sitting service in West Lothian offers, check out https://alicatpurrfections.co.uk/alicat/services/