If the dates you require show full, please still contact me as I may be able to accommodate your booking apart from when I am away on annual leave beginning of November 2020. However, these dates may change and I will let you know as soon as possible.
Bookings are open for 2020 and 2021. As soon as you know your dates please send through your booking form to avoid disappointment. I only take a £2 per day, non refundable deposit to confirm your booking.
Please note Alicat Purrfections will be closed for my annual leave approx. 1 – 14 Nov 2020 (dates still to be confirmed). If you are able to schedule your time away around these dates, that would be very much appreciated. I don't want to let any of my clients down and trust you understand Auntie Ali needs to recharge her batteries too. 😺
Receive a 10% Discount OFF your first booking and your 10th with Alicat Purrfections Loyalty card.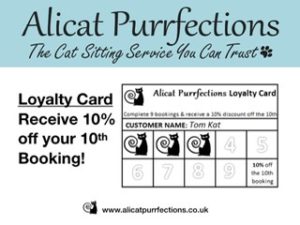 All dates for 2020 are currently available. School holiday dates are getting busy, so best to book early to avoid disappointment.
NOVEMBER 2020: Closed approx. 1 – 14 Nov 2020 (Annual leave dates still to be confirmed).