During my annual leave, Emma will be covering the visits. However, the bookings must be requested in advance and are subject to availability. The dates are noted here and at the top of the Booking Form, please check prior to booking. I am sure you will appreciate I require time off and hope you are able to accommodate your holidays around mine. I apologise for any inconvenience caused.
Closed for Annual Leave: 19th May – 4th June 2023 and 20 – 27 October 2023
Bookings are open for 2023 and 2024. As soon as you know your dates please send through your booking form to avoid disappointment. I only take a £2 per day, non refundable deposit to confirm your booking. However, if you have to cancel your booking due to Covid-19 I am offering to refund your deposit or transfer it to a future booking.
https://alicatpurrfections.co.uk/alicat/booking-form/
If the dates you require show full, please still contact me as I may be able to accommodate your booking as I have Emma assisting during peak times.
Receive a 10% Discount OFF your first booking as well as off your 10th booking with Alicat Purrfections Loyalty card.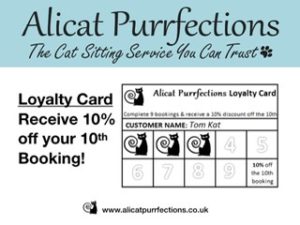 Most dates for 2023 are available. School holiday dates are getting busy, so best to book early to avoid disappointment.