With a lot of us having to adapt to working from home during these challenging Covid-19 times. Our pets are a little confused with us being around all the time and can be unsettled if their routines are disrupted. Some will love all the human contact; others will be not be impressed!
As a cat owner it is important to ensure your pet's routine is not altered too much, however I'm sure they are getting involved with your new routine. Most will be curious as what you are doing sitting at a laptop all day and will compete for your attention. How many have you been on a work video call and your fur baby has wanted to say 'hello'? Our cats are great at jumping on the table, sending papers flying or flicking your pen on the floor. Great fun for them, not so much for you!
It is a stressful time for everyone and especially adding into the mix home schooling, I don't envy you at all! As a self-employed cat sitter based in Livingston, West Lothian. I have been affected by the lockdown and therefore spending more time than usual at home with my kitty cat, Charlie. We have tried to keep to our normal routine and it is tempting to give him constant attention. However, he likes his nap time and space to chill therefore I have made sure I give him the peace and quiet he requires.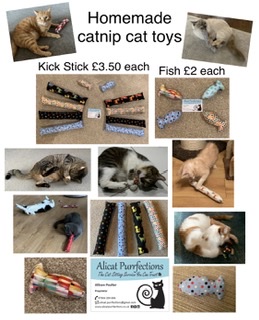 Exercise is so important for your cat's mental and physical health. To keep your cat entertained and in tip top condition, playing with your cat 15-30 mins a day is great for bonding with your cat(s) and helping with their natural hunting skills. They love to jump and pounce as if they are chasing prey. There are lots of different types of toys on the market and finding the right toy that engages your cat(s) can take time (and money!). However, it is worth it in the end to see them happily playing and interacting with you.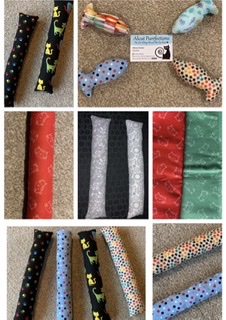 During these difficult times while you are working from home, it is not always possible to give your cat(s) the attention they desire. Alicat Purrfections cat sitting service not only provides great homecare for your cats any time you can't be there for them, also makes handmade catnip cat toys. Your cat will go crazy over them and happily play alone for a short time to give you peace and allow you to get on with some work.
All of the Kick Sticks and Fish (other seasonal toys such as Christmas Trees will be available) are made to order and you can chose whichever fabric you would like. They are packed full with a mixture of good quality catnip and toy filler so they are robust and give your cats hours of fun. I have put together a short video to show you how much my kitty Nieces & Nephews love them.
If you would like to order, please get in touch using the 'Contact' link or call/text 07904 209 696.
Kick Sticks = £3.50 each
Fish = £2 each
£1 Delivery charge within West Lothian.
Package & Postage out with the area will apply (approx. £3.10 to post to a UK address 2nd class parcel post).